Beyond grief
Trying to make sense out of the Station tragedy
BY IAN DONNIS
Things like this are supposed to happen somewhere else.
Like Boston, where 492 people died 50 years ago as a result of fire at the Cocoanut Grove nightclub.
Or New York City, where an arson fire claimed 87 lives in 1990 at the Happy Land Social Club.
Or Chicago, where security guards using pepper spray to break up a fight touched off a stampede that killed 21 people on February 17.
Something like this wasn't supposed to happen at a modest roadhouse off the beaten path in West Warwick, where the Station's bookings -- heavy on '80s hard rockers whose day had long since passed and tribute bands paying homage to AC/DC and Van Halen -- meshed with an old factory town whose commercial fortunes had crested decades earlier. The mingling of small-town patriotism with rock verities was evident in a mural on the side of the club, where icons like Janis Joplin and Ozzy Osbourne were set against the backdrop of an American flag.
But the cataclysm came here, in the gritty heart of Rhode Island, with stunning speed and staggering impact in a way that no one anticipated. Of the 300 or so people who were in the Station last Thursday, February 20, nearly a third -- 97 -- lost their lives and most of the rest -- 187 -- were injured, many of them critically, left to face a long and difficult road to recovery.
Station co-owner Jeff Derderian with his wife Linda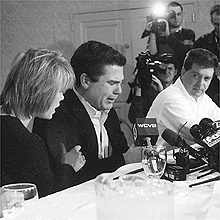 It came after weeks in which government pronouncements and color-coded warnings raised anxiety about a threat from abroad. And although the cause was wholly different and the toll far smaller, the terrorist attacks of 9/11 provided a familiar frame of reference -- from the hellish quality of the disaster scene and the nightmare of lost and grievously injured loved ones, to the heroism displayed by rescuers and the heartening sense of a community coming together.

There was the only-in-Rhode Island quality of how the Station was co-owned by Jeff Derderian, a reporter for WPRI-TV (Channel 12), whose cameraman, apparently gathering stock footage for a story about nightclub safety in the aftermath of the fatal Chicago stampede, taped an unexpectedly chilling tableau that was broadcast over and over on national television. As those at the front of the audience happily raised beers or pointed their hands in the air, singer Jack Russell kicked Great White into its first song, "Desert Moon," jauntily shaking his mike stand from side to side, unaware that sparks from the pyrotechnics display behind him were already sending flames toward the club's ceiling.

Within just three minutes, fire and acrid dark smoke engulfed the Station, destroying it, in the fourth worst nightclub disaster in US history. Stunned Rhode Islanders were left with the task of trying to make sense of how a carefree night suddenly turned into the worst disaster in the state since the Hurricane of 1938, when 262 people were killed. Although the club had four exits, most patrons were familiar with only the main entrance, leading to a panic in which many people were unable to escape a horrific pileup near the front door.

Great White's Jack Russell and Dave Filice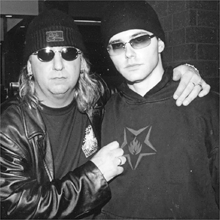 The loss of so much life would represent a tragedy anywhere, but it struck especially hard in Rhode Island, the nation's smallest state, where no place is more than an hour away by car and the fire claimed one tenth of one percent of the state's population. The state's typical intrigues -- the recent discovery of a secret taping system at the Providence police station, a battle between the House speaker and Senate president -- quickly seemed irrelevant.

After the fact, a few things seemed obvious: Great White's pyrotechnic arrangement -- a fan of so-called gerbs, which shot tall cascades of sparks in three different directions behind the band -- was utterly ill-suited for a low-ceilinged club like the Station, where foam soundproofing behind the stage seems to have spread the fire. And regardless of whether permission was granted for use of the gerbs -- a question disputed by Great White and the Station's owners -- the professional and legal standards for using fireworks in such a situation, such as surveying the stage area for potential hazards and having a permit, appear to have been given short shrift.

Governor Donald L. Carcieri, facing his first test since taking office in January, spoke for the state's residents while mustering a steady calm and quiet confidence in daily briefings. The conflagration "shouldn't have happened, didn't need to happen," said Carcieri, who ordered a safety review of smaller venues like the Station and a moratorium on the use of pyrotechnics in such clubs. "Someone made a very, very bad decision."

Part of the speculation centered on whether Great White was trying to recapture its glory days by incorporating elements better suited to an arena than a small club. Russell disbanded the group after a New Year's eve gig in 2001, moving away from the kind of hard rock that had given Great White a hit with a cover of Ian Hunter's "Once Bitten Twice Shy." But by early 2003, Russell had reconstituted Great White with fellow original member Mark Kendall and several newcomers, including guitarist Ty Longley, who perished in the fire. As part of a promotion for the band's "Play On" tour, which began January 23 in Glendale Heights, Illinois, GW's Web site crowed, "1500 fans in the Chicago House of Blues can't be wrong! This band is the most potent line-up Great White has ever had."

The charred remains of the Station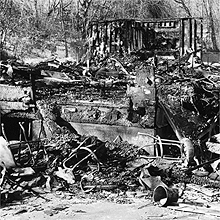 It's understandable that the West Warwick fire, coming just four days after 21 were killed in Chicago, has prompted a nationwide focus on nightclub safety. Just as 9/11 caused us to look skyward at every approaching plane in the ensuing weeks, the Station disaster has caused people to carefully take note of the entry and exit points of clubs, restaurants, and other public venues.

But Rich Lupo, the owner of Lupo's Heartbreak Hotel, one of Rhode Island's most popular venues for live music, disputes suggestions that rock clubs aren't stringent about safety. "People don't appreciate in general how incredibly strict the fire marshal's office is, and how incredibly strict codes are for us, because we are places of public assembly," Lupo says. "There are all kinds of building codes and fire preventative codes that we have to obey. We are inspected. We are surprise inspected. And I don't mean to point the finger, but I don't believe what happened in West Warwick could happen at Lupo's. We have a sprinkler and a fire preventative system linked to the fire system." (The Station didn't have a sprinkler system because the building had been grandfathered in after the adoption of a sprinkler requirement for such structures.)

Lupo, who has operated clubs in Providence since the mid-'70s, says he can't recall an instance in which a band wanted to use pyrotechnics at one of his venues. And it did seem unusual, he said, that such devices would be used at a place like the Station.

There were reports that Great White had recently introduced the use of pyrotechnics without permission at several clubs, including the Stone Pony in Asbury Park, New Jersey. Other accounts indicated that Great White didn't use the pyro at some other venues after being denied permission. There were reports, too, that other bands, including a Kiss tribute that played the Station last summer, had used pyrotechnic elements without incident.

All that was in the past. In the aftermath of a fire that brought so much death and devastation, everything was different.

Mementos from loved ones / Photos by Richard McCaffrey

BY THE NEXT MORNING, scores of reporters, photographers, satellite trucks, and anxious relatives and acquaintances were camped across Cowesett Avenue from the charred remains of the Station. The 300-person capacity club, which dated in various incarnations as a nightspot and restaurant to the '40s, was reduced to rubble -- a grim indication of the dawning heartbreak. The continuing investigation, which includes a grand jury proceeding, had already started.
Karen Lee Ziner, a veteran Providence Journal reporter, was approaching the end of her four-to-midnight shift the previous night when she heard something on the police scanner about a raging fire and a request to send every available rescue unit. Racing to West Warwick a short time later, she encountered the resulting chaos as rescue workers triaged the injured and dazed people stared at the inferno engulfing the Station. "I said to someone, `This is like hell,' " Ziner recalls. A sound tech for the club and Jack Russell were already debating whether the band had permission to use the pyrotechnics blamed for the fire.
As a reporter covering the scene, Ziner felt mixed emotions. She felt terrible, she says, "because I was watching a lot of people and thinking they look like they're not going to make it, and it felt really invasive. I just felt like I was in the way, but that goes with the territory. You know, the press is in the way [as a witness at terrible events], but we're not in the way -- that's our job. It was a very traumatic night."
Although reporters, like cops and firefighters, often adopt a necessary degree of detachment in responding to situations involving the loss of life, the magnitude of the West Warwick calamity made it impossible to maintain a typical degree of distance. "Just from a human level, it's depressing," says Jim Taricani, an investigative reporter for WJAR-TV (Channel 10), and occasional contributor to the Phoenix. "I don't see how it could not be depressing. In some ways, we've developed a hard edge, but when you come across a situation like this, with a massive loss of life and how it happened -- people going out to have a good time and they end up dying in such large numbers," you can't help being impacted. Such an effect, Taricani hastened to add, is nothing compared to the suffering of those in the fire and their family members.
Peer counseling was made available to many of the police officers and firefighters who responded to the scene. "As much as they're doing their jobs, they're human also and they feel for everyone else -- the victims and the families," says Major John J. Leyden Jr. of the Rhode Island State Police. Although troopers must be prepared for dealing with anything, "I don't think anyone ever envisioned being involved in this type of incident."
The timing of the fire at about 11 p.m. Thursday coincided with a shift change at Rhode Island Hospital, the state's only trauma center, a fortunate coincidence that provided a greater number of nurses and other staffers to deal with the initial response. Now, in the aftermath, many fire survivors face a painstaking path to recovery because of the seriousness of their burn injuries. "This is really hard not to get emotional about," says a doctor, who requested anonymity. "You walk in and you want to overdo things [to help the patients]."
"It has been extremely difficult," the doctor adds. "The rest of the hospital is very strangely quiet, somber. Everybody knows somebody [who was impacted by the fire]. It's on everybody's mind." In a world where people typically complain about petty concerns, "I think it makes you put things in perspective."
THE WEST WARWICK fire happened as we face the prospect of war. For some, the terrible and unexpected disaster only heightened a sense of things coming undone in an increasingly scary world.
At the same time, the outpouring of sympathy and assistance for the victims and their families speaks to our best instincts, an ability to be compassionate and generous in responding to grief and sorrow. Relief funds have been established and various groups -- ranging from local musicians to the Rhode Island Supreme Court -- have offered their assistance. "I think in some ways the West Warwick event is really unifying the state, the same [effect] that September 11 had on the nation," says WHJJ-AM talk-show host Arlene Violet. "It's these kind of events that wake us up, I think, to the importance of everyday living and how a single night of fun can turn into a disaster because of bad decisions being made."
Amos Sanfilippo of Plymouth, Massachusetts, who plays guitar in Diver Down, a Van Halen tribute band, played the Station numerous times in the last six years, most recently at the end of January. The band's drummer, Jay Gates, was among those who escaped from the fire without serious injuries. Sanfilippo says he is working with other tribute bands to plan a warm-weather outdoor benefit for the fire victims. "Everybody wants to do something to jump in and help out," he says. "We've been playing that club since 1996, so I kind of feel like we're part of the family."
A lot of those who were at the Station for the ill-fated Great White show were in their 30s and 40s, many of them with families of their own, suggesting the central place that popular music occupies in our culture. Considering this, it was no surprise that some of those mourning the deaths of the fire victims would turn to music as a source of solace, even as the offhand names of some of the bands playing Providence shows this weekend -- Life This Week, Crash and Burn -- took on unexpected connotations. Musicians were encouraged to bring their instruments during one memorial service last weekend at St. Francis Chapel in downtown Providence.
Some musicians were also surprised by the reception they received in playing out in the night after the fire. Phil Maigret, who plays guitar in Jeri and the Jeepsters, says he and his wife, Jeri Verdi, debated whether to play a scheduled gig last Friday at Cady's in West Glocester. They had seen the television coverage the previous night and weren't able to sleep until 4 a.m. But they resolved to play the gig, Maigret says, and found a solid audience of about 100 that seemed to welcome the music at the small club. "Everybody was talking about it, what had happened," he says. "At the same time, everybody wanted to forget about it."
The full fallout of the terrible fire at the Station will take weeks, months, and even years to come out. As that process continues, Rhode Islanders will likely live with a similar duality -- being gripped by the tragedy while also trying to move beyond it.
Ian Donnis can be reached at idonnis[a]phx.com.
Issue Date: February 28 - March 6, 2003