The last XXX picture show
After preserving one of the state's great movie houses by screening adult films, Jon Berberian is chasing his dream of reinventing the Columbus Theatre
BY IAN DONNIS
Jon Berberian / Photos by Peter Goldberg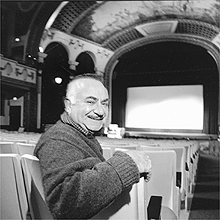 Jon Berberian made all kinds of excuses to his parents when he decided to screen The Doll, a slightly racy Swedish film with a bit of exposed breast, at the Columbus Theatre in 1965. Showing titillating fare, after all, was the last thing on anyone's mind when Berberian, a Brown University graduate and tenor with the New York City Opera, had returned to Providence a few years earlier to rejuvenate the majestic 1492-seat vaudeville-era theater as a performing arts center.
But more than 700 people showed up when The Doll debuted on a Wednesday, aided, no doubt, by advertisements that included the provocative tag line, "Banned in Denmark," and the Columbus filled to capacity two days later. The strong demand, in contrast to the meager turnout for more mainstream fare and the difficulty of booking stage performers, represented a clear choice for Berberian. As he recalls, "Whenever I brought in something that was sensational, I succeeded. After three times, I stuck with the adult films."
The new booking policy left Berberian, a genteel, family-oriented fellow whose parents made a new life in America after narrowly escaping the Armenian genocide, in the somewhat unlikely role of being a provocateur and fighter for free expression. After I, A Woman played at the Columbus for six weeks in 1967, for example, city censors attempted to block further screenings, although the controversy hardly hurt business and Berberian prevailed in the first of what would become a lengthy series of court battles. The former opera singer also proved a canny businessman by gravitating toward adult movies in the years before Deep Throat hurtled porn into the mainstream in 1972, as well as by creating the first twin theater in Rhode Island, screening works by such directors as Ingmar Bergman in the eclectic 200-seat upstairs Studio Cinema.
The adult movie houses that once flecked American cities became a thing of the past with the advent of videocassette recorders -- and the chance for individual men, the largest audience for porn, to view such material in their own homes -- in the 1980s. But although Berberian was receptive to different uses for the Columbus, such as a Rhode Island beauty pageant held in the mid-'80s and an annual opera staged by a group from Wheaton College until 1998, adult films proved to be the most reliable source of revenue. The porn, however, also created an obstacle for many of the community-oriented performance groups that considered staging productions at the Columbus.
So it went for years, as small numbers of solitary men would gather in the darkened Columbus -- built in 1926 and designed by Oreste Di Saia, who also created the similarly classical Veterans Memorial Auditorium -- to watch heterosexual action on the big screen. Passing motorists on Broadway could only wonder what occurred inside the building with the grand marquee and exterior clock tower, unaware, no doubt, that they would find a double proscenium arch, a lovely Italianate overhead mural of dancing nymphs, and framed portraits of opera singers and composers like Caruso and Mozart lining the theater's walls. Not for nothing is the Columbus listed on the National Register of Historic Places.
Adult movies date to the dawn of motion pictures, according to porn expert Luke Ford, the author of A History of X: 100 Years of Sex in Film (Prometheus Books, 1999). "Shortly after someone invented the camera, there was a woman undressing in front of it," he says. By the late '90s, the Columbus had made the switch from showing film to video, but it remained one of -- if not the last -- full-fledged movie theaters in the US to present adult movies on a big screen, Ford says.
The California-based porn expert cites Berberian's stewardship of the Columbus as "another example of a human, social element to the porn industry, which is usually a dehumanizing, solitary, shameful industry . . . I think many Americans are tempted to just say, 'Ah, porn,' and dismiss something with any connections to pornography. And stories like this illustrate that likeable people can get involved in trafficking something that most people don't like at all."
Meanwhile, after having invested in improvements during more lucrative times, Berberian was content to subsidize the money-losing theater through his ownership of rental properties, biding his time and trying to conceive a different format.
IT'S HARDLY a surprise that not everyone was happy with the presence of adult movies at the Columbus, not least of all former mayor Vincent A. "Buddy" Cianci Jr. In 1998, Cianci had the city move to condemn the theater and acquire it by eminent domain. Screening skin flicks hadn't been without some social stigma for Berberian and his wife, Elizabeth, a Juilliard-trained former soloist with the Rhode Island Philharmonic (she wasn't asked back to the philharmonic after he began showing the movies, he says), but it did offer a definitive Constitutional trump card against this kind of hostile takeover. Cianci backed off after the American Civil Liberties Union came to Berberian's defense.
Certainly, the scorn directed by some at the Columbus or its proprietor seems misplaced in the larger context. Adult entertainment has come to permeate American culture as a multi-billion-dollar business, albeit in ways that few people fully understand. In 2000, the New York Times reported that people in Utah County, Utah, "a place that often boasts of being the most conservative area in the nation, were disproportionately large consumers of the very [adult] videos that prosecutors had labeled obscene and illegal." Those companies profiting from porn, the Times noted, included some of America's best-known corporations, such as the General Motors Corporation, whose DirecTV subsidiary was selling nearly $200 million a year in pay-per-view sex films from satellite, and the AT&T Corporation, which was offering a hardcore sex channel called the Hot Network to its broadband cable subscribers.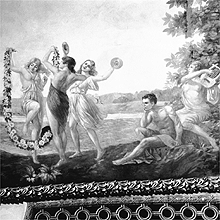 By contrast, the Columbus has remained a quintessential small family business, with Berberian getting help from his twin sons, Karl and John, now 32, and even occasional assistance from his mother, Agavne, now past 92, like her late husband, an Armenian immigrant who narrowly escaped the old country.
In recent years, though, Berberian still faced a Catch-22: he wanted to do something else with the theater, but feared dropping the adult films because of what he perceived as Cianci's ongoing designs on the theater (former city solicitor Charles Mansolillo, a confidante of the former mayor, says he was unaware of any subsequent intention by Cianci to gain control of the theater). At any rate, Berberian maintained his longstanding booking policy, because, "Continuing with the adult films acted as a First Amendment protection for me."
As it happened, the political corruption case that would land Cianci in a federal prison in New Jersey unfolded at roughly the same time that a variety of new audiences began discovering the Columbus in recent years.
The newcomers, such as those who turned out for an alternative circus, a fetish fashion show, and concerts booked by the nonprofit arts space AS220, weren't the type to be squeamish about the theater's association with adult movies. Instead, they were wowed by the surprising beauty of the Columbus' interior, not to mention the retro candy counter and a lobby decked out with gold paint, mirrors, and marble floors. "I think it's one of our city's treasures," former AS220 booker Lizzie Araujo told me at the time. "I think that if more organizations and booking agents in the city thought of it as an option, it would help to dispel that [seamy stereotype] and that's what [Berberian] needs. It's just him out there. He needs help bringing things into that building, and he's a wonderful man."
The Columbus continued to gain newfound respect and appreciation as the indie-minded Picture Start Film Series and the Rhode Island International Film Festival (RIIFF) came to the theater in 2000, expanding the range of visitors to include an outpouring of members of the local demimonde as well as such unlikely suspects as Lincoln Almond and actress Patricia Neal. The star power brightened when Julie Andrews was feted during the 2001 RIIFF, prior to a screening of S.O.B., her husband Blake Edwards's biting 1981 satire of Hollywood. "Here, Mary Poppins walks into the building," says George Marshall, executive director of the RIIFF, who now leases a storefront office at the Columbus and helps Berberian to promote the theater. "We went from triple-X to triple-G" (although S.O.B. was a delicious choice for the Columbus since the squeaky-clean Andrews bares her breasts in the movie).
Marshall, who had also clashed with Cianci, over a competing film festival, says he was initially attracted to the theater because he was "looking for something with a little more history and flavor. What amazed me was how well-kept the building was, how clean the building is, and what a generous person Jon is." He likens entering the Columbus to "walking into a piece of the past. It gives you a warm feeling. I can't tell you how many people have walked into the building and immediately felt at ease. We've had more people who've become advocates for the building since they discovered it, which is why we were able to throw the 75th anniversary [in November]."
John Lavall, who later made a documentary about the Columbus, Rated X -- One Family's Business, is typical of those who changed their outlook after having the chance to get to know Berberian. Showing one of his previous films at the theater during the 2000 RIIFF, Lavall was somewhat nervous about inviting friends and family to a porno theater. But Berberian was extremely accommodating when Lavall needed to change the time of the screening. "It just broke the stereotype of what I thought a porno theater owner should be like," Lavall says. "John and his wife are just the nicest people you'd ever want to meet. I just love them. He's smart and he's dedicated."
Bolstered by the increased interest in the Columbus and put at ease by Cianci's incarceration, Berberian stopped screening adult movies after the most recent version of the Rhode Island International Film Festival in August. Although business was slow at first, growing numbers of moviegoers have been turning out for his new art-house selections, some of them Rhode Island premieres, such as The Kid Stays In the Picture, 8 Women, The Last Kiss, The Man From Elysian Fields, and Real Women Have Curves. The Columbus has also continued to serve as a site for a gamut of other events, including a sing-a-long Sound of Music fundraiser for AIDS Care Ocean State, the recent Rhode Island Human Rights Film Festival, and weekly musical performances in the upstairs cinema by a Christian fundamentalist group from North Providence.
It remains to be seen whether the art-house format -- aided by the booker for the Jane Pickens Theatre in Newport -- is the best fit for the Columbus, particularly with the Avon and Cable Car showing somewhat similar stuff. Some local observers believe a more off-the-wall mix of cinema would prove more successful. Still, the theater's rising profile jibes nicely with the ascent of Providence's West Side, home to many artists and such nearby hotspots as Nick's on Broadway, Julian's, and the Decatur Lounge.
Berberian, who looks far younger than his 70 years, with a face accented by bushy eyebrows and a pencil mustache, is most excited about another plan -- to bring a Las Vegas-style revue featuring over-50 chorus girls -- that somehow seems in keeping with the idiosyncratic appeal of the Columbus. (With an ongoing tax dispute with the city, the revenue could also prove helpful.)
Bob Goss, the Pennsylvania-based promoter of the "Silver Sizzles Revue," learned about the theater from a friend and was intrigued after visiting it. "I think I could do great business up there," says Goss, speaking while wintering in Florida. "I had a vision of what I was going to see when I walked in, and it was totally different, it was totally unbelievable. It was like a jewel."
The deal is contingent on Berberian, who is now investigating the process and consulting with preservationists, making improvements that could reach into six figures at the Columbus. The proposal calls for Goss to bring busloads of tour groups from a 100-mile radius for lunch in Providence and then to the theater for a weekday cabaret. The theater would remain available for films in the evening, and the revue might be offered to the public on weekends.
Standing in his main projection room, near stacks of now-obsolete videocassettes with titles like Sex Freaks and Dark Garden, and a dated Thin Man poster featuring William Powell and Myrna Loy, Berberian is elated about the prospect of bringing new vitality to the Columbus. "This would mean I could come into a substantial amount of money to reinvest in the theater and do the things that I'd like to do," he says.
THE GREAT ITALIAN tenor Tito Schipa was the headliner for the reopening of the Columbus Theatre on November 1, 1962, exactly 36 years after it first opened to the public, and expectations were running high for the Berberian clan. Misak Berberian, Jon's father, had bought the idled movie house with the hope that his opera singer-son could put it to good use. And Jon Berberian was astounded to learn that the Columbus had 1492 seats -- an amount similar to some of the largest theaters in New York City.
The Schipa concert, though, proved a bust, suggesting the difficulty facing the new enterprise. It was hard to sell tickets, Berberian recalls, because many people thought the aging singer had already died. After selling only 50 tickets, Berberian gave away about 600, leading Schipa to mistakenly believe that all those in attendance had paid, and the singer promptly demanded a higher percentage.
Jerry Vale, the Four Seasons, and other performers played to large audiences at the Columbus, but efforts to book pre-Broadway shows fell apart because of union difficulties, Berberian says, and the former RKO theater wound up showing second-run movies. This path, which subsequently led to the screening of adults films, was an unlikely one for the 1950 valedictorian at Central High School, who discovered a love of singing as a child and trained for the opera in New York City after graduating from Brown.
"In junior high, the first time the spotlight hit me, I said, `This is my life,' " recalls Berberian, who substituted Jon as a stage name for his given name, Sarkis. But after performing with the New York City Opera for a few years and meeting his wife, he decided to return to Rhode Island because of uncertain career opportunities and the personal sacrifices required of opera singers.
Misak Berberian, who lost several immediate relatives during the Armenian massacre and made a close escape to get to the US, became something of a movie enthusiast in the new country, buying one of the first Kodak 8mm cameras and projectors in the 1930s. Running a liquor store in the Armory District, he screened 16mm films in a nearby lot, his son says, and jumped at the opportunity to buy what was then known as the Uptown Theatre.
The subsequent foray into adult movies proved profitable, but it also provoked no small amount of legal action.
"There must have been 10 or 15 cases over the years where they tried to stop him showing films and they were never successful," says lawyer Milton Stanzler, who represented Berberian after having helped to establish the Rhode Island chapter of the American Civil Liberties Union. Although some judges didn't follow the pertinent law, the Rhode Island Supreme Court reversed such decisions, Stanzler says, adding, "It was a running battle down through the years."
Steve Brown, executive director of the Rhode Island ACLU, praises Berberian as a staunch advocate for free expression. "It takes a lot to take the pressures that have been placed on him for a few decades," Brown says. Although the screening of adult movies in theaters has passed from the American scene, "there was nothing anachronistic about it for most of the decades he was fighting it. Some of the most important First Amendment battles take place on the fringes."
More than anything, Berberian deserves accolades for helping to preserve one of Rhode Island's last great movie houses, a vestige of a time when such edifices were created with skill and beauty. "If it wasn't for him and his family, the building could have been torn down years ago," says George Marshall, of the Rhode Island International Film Festival. "I think Jon deserves a lot of credit. He's been tenacious about preserving that building."
More than 40 years after assuming the management of the theatre, Berberian feels as if he's getting closer to his dream of remaking the Columbus as a flourishing enterprise. Asked why he persisted with the theater through all this time, he says, "It seems to be a part of me. I can't envision life without it. It would be like not being able to think about life without your family."
Ian Donnis can be reached at idonnis[a]phx.com.
Issue Date: January 10 - 16, 2003